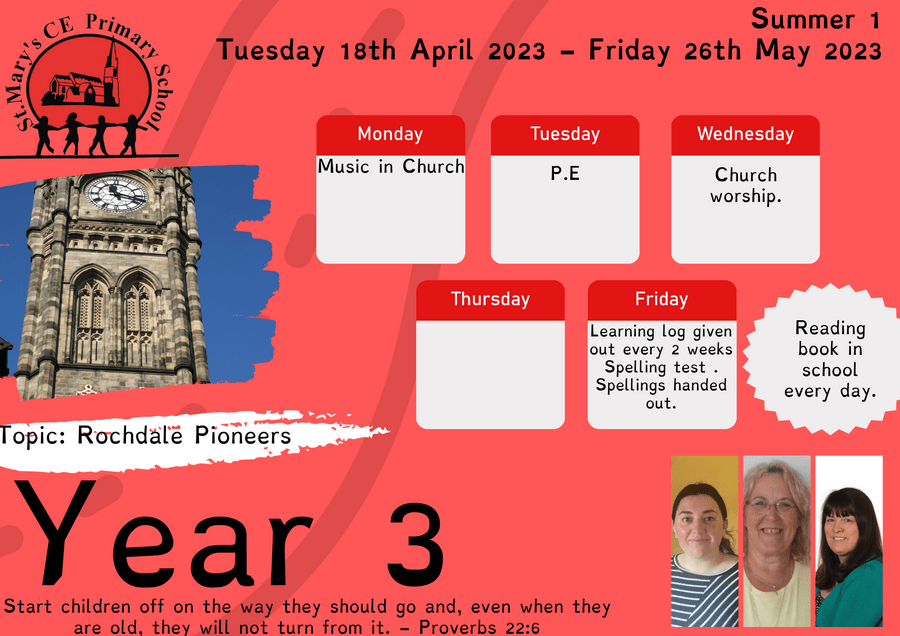 Welcome to Year 3. The class teacher is Miss Dundon currently supporting. We have Mrs Anderton with us all day. We also have Mrs Corke in the mornings and Mrs Bland in the afternoons.
On Mondays, we have music with Mrs Reynolds. On Tuesdays, we have PE.
Here is everything we will learn this year:
Our aim is to have a friendly classroom, where we trust and respect one another and have fun learning.
We work as a team to support each other in all we do, so that we can achieve to the best of our ability.
In Year Three we strive to have high standards and expect that children:
Arrive promptly to school each day for 8.50am registration. Children can wait in the yard from 8.35am.
Wear the correct uniform to school, including black shoes.
PE is on a Thursday, so please come into school wearing your PE kit consisting of black track suit top and bottoms, white T-shirt, pumps or trainers. For this half term, weather permitting our PE lessons are on the school field or yard.

Please complete homework that is set. We will give out a paper copy of spellings each week and also they will be put on Class Dojo.

To read at home at least three times a week to an adult, and please sign the Reading Record Book. Reading books will be changed if required on Fridays.
ENGLISH
We will link our English lessons to our topic, using the same text in Reading, Writing and Topic lessons.
In our writing, we will be aiming to develop our grammar, spelling and punctuation. We will practice using more descriptive language, such as adjectives, expanded noun phrases and subordinate clauses. We will look at how we can include verbs and adverbs to make our writing more powerful. As a school, we are developing writing skills using Alan Peat tools, through this scheme, Year 3 will work on using repetitive language, questions and detailed description.
Children will also have opportunity to proof read their work and redraft to up-level it.
If you would like to practice building your skills, take a look at the links below.
https://home.oxfordowl.co.uk/english/primary-english-year-3-age-7-8/
https://www.bbc.co.uk/bitesize/collections/year-3-and-p4-english-lessons/1
Year Three Statutory Spellings
Please practise from the list below. How many can you get right?
Year 3 love SpellingShed games on EdShed and their weekly spellings are assigned each week to practise at home.
https://www.edshed.com/en-gb/login
SCIENCE
This half term we will be learning all about 'Skeletons'. Through these sessions and using TAP's assessments (https://pstt.org.uk/) we will be developing the five areas of scientific enquiry, which are:
observation over time.
identifying and classifying.
pattern seeking.
research.
comparative and fair testing.
MUSIC
We have a fantastic music teacher that works at St Mary's on a Monday.
Year three will have an opportunity to carry out different activities.
This half term we will be developing our skills using string and percussion instruments to develop our performance skills, whilst learning about pentatonic scales.
PE
This half term we will be participating in PE on a Thursday afternoon. Please come to school in our full PE kit (plain black tracksuit, white t-shirt and trainers).
LIBRARY VISITS
Year 3 visit Balderstone Library every Friday. Children are given the opportunity to choose a book from the wide range on offer and bring them back to school to read in class.
HOMEWORK
Spellings will be sent out on Class Dojo on a Friday and as a paper copy and are expected to be practised at home, as the children will take their spelling test on Friday mornings.
Reading homework is to practice on reading with an adult AT LEAST three times a week. This must be recorded in the reading record.
Maths homework is to practice on Times Table Rockstars AT LEAST three times a week. If there is any issues in logging on at home, please let one of the year three adults know ( a quick message on Class Dojo is the best way).
Learning Log homework will be put on either Class Dojo or as a paper letter in their Learning Log Books, whichever is more appropriate. These will be handed out every other Friday and is due back two weeks later on the Thursday.
Learning logs will be shared with the class and a selection of the work will be displayed in the hall.
As ever, if parents, carers or pupils have any questions, please feel free to speak to a member of the year three team at drop off and pick up times, or send a message on class dojo. One of the team will endeavour to answer your question or query as soon as possible.
Thank you for you support in helping year four to
'Be the best that we can be'.