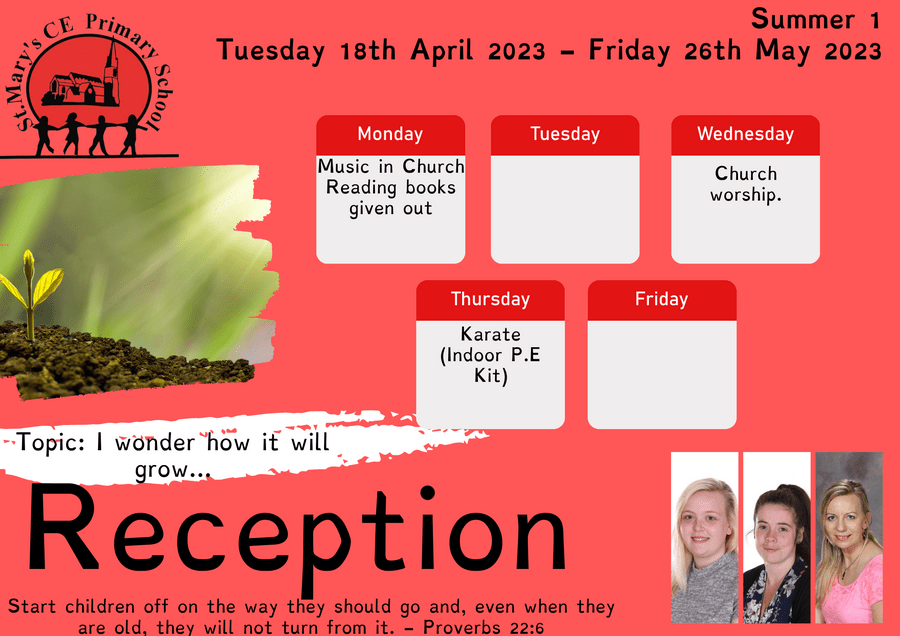 Your teacher is Miss Thomas and your teaching assistants are Mrs Oliwiak and Miss Fenton.
Knowledge Organiser Summer 1 coming soon...
Homework
Reading Books
Reading books are changed every Monday. Please make sure your reading files are in school so we can look at the reading record and give you your new book. Please also sign the reading record everytime you read with your child.
Phonics
In Reception, we learn a sound a day. If you would like videos to support learning the sounds or blending at home, please let Miss Thomas know and she can send some to you via dojo.
Learning Logs
Every two weeks the children will be given a Learning Log task. This will be linked to the topic for the half term. They will also be added to Class Dojo as a reminder for when they are due. On the due date, we will have a Learning Log Gallery, where children get a chance to look at everybody's work. Each teacher will pick a winner and then the children will vote for their winner too. The winners will all get a prize from the prize box and will show off their Learning Log in Celebration Assembly.
In Reception we use Numbots to help support our mathematical knowledge. Each child has their own log in to they can play at home. Numbots allows children to develop their skills in a range of mathematical areas such as subitising, counting, addition and subtraction.
If you need your child's log in please let Miss Thomas know. We ask that your child uses Numbots for 15 mins every week and children who pass levels will get special certificates on a Friday.
Online Learning Journeys
In Reception, we share a lot of our learning through our Online Learning Journeys. We will share wow moments and key learning that they have achieved. Parent Share has now been set up and an email link should have been sent to you. If you haven't received this email, please let Miss Thomas know so she can check the email we have.
Outdoor Learning
Outdoor learning is valued in Reception and children will be given opportunities in all weather to develop their learning and skills. Children have access to both the indoor and outdoor provision throughout the day. The provision set up outdoors will be linked to the learning the children carryout indoors. St. Mary's provide protection for the water tray and sand pit (waterproof coat for water area and wellies/sand trousers for sand pit) for all children but we do ask parents to provide their children with sun cream and a sun hat in summer and a waterproof coat for the winter.
Reading Books
Children are encouraged to explore print within class. Children will begin to learn sounds from the fifth week into the school year. From this the children will be encourage to segment and blend simple words. Once the children have developed their knowledge they will begin to look at books and create their own stories. The children will read in small groups and one to one in class and will take books home to share with their family and friends.
Reading
You can visit the link below to find over 250+ FREE ebooks!
You are your child's role model if they see you enjoying reading it is likely that they will enjoy it to, if you want your child to be a good reader it is important that you take the time to read with them daily, no more than 5 to 10 mins is needed each night.
Maths
At St Mary's we follow the Mastering Number scheme. Each week your child will do a range of practical activities to support their mathematical development.
This term...
Pupils will:
Continue to develop counting skills
Explore a range of number representations
Compare quantities and numbers
Continue to develop a sense of magnitude e.g. knowing that 8 is quite a lot more than 2, but 4 is only a little bit more than 2
Begin to generalise about 'one more than' and 'one less than'
Continue to identify when sets can be subitised and when counting is necessary
Develop conceptual subitising skills
P.E.
In Summer 1, PE is on a Thursday. Your child should come into school in their PE kit for the whole day. This half term we are doing Karate!