In Year 1 we want our classroom to be a safe, fun and an encouraging learning environment.
The Year 1 teacher is Miss Thomas and the teaching assistants who support in the class are Miss Kennedy, Miss Wood (am) and Miss Fenton (pm).
PE
Indoor PE will be on a Wednesday Afternoon and the children will be participating in Gymnastics.
Outdoor PE will be on a Thursday afternoon, the children will be carrying out games and looking at different skills in games.
Please ensure your child's kit is in school every day.
Reading
We would like parents to read with your child every day and sign their reading record. We ask that your child brings their reading book in everyday as the adults may listen to them read.
Maths
Maths homework will be an activity that we have been learning that week. It will be handed out on a Monday and should be returned the following Monday.
Spellings
New spellings will be handed out every Monday and the children have a spelling test every Monday. The spellings that are asked to be practised will contain the sounds that have been covered in phonics lessons throughout the week.
Learning Logs
Learning log tasks will be set every 2 weeks, and will be an activity that is around our topic. The children participate in a learning log gallery and share their work in class. The children then vote for their favourite learning log and receive a special prize from Miss Thomas' prize box. Learning log's will be sent out every other Friday and be collected back 2 weeks later, on a Friday.
Spring 2
Dinosaur Planet
This half term we will be looking at Dinosaurs!
Maths
We will be looking at place value, this is to become more familiar with numbers to 100, looking at counting forwards and backwards, finding one more and one less than a number and looking at ones and tens in a 2 digit number. This half term we have also started to look at partitioning 2 digit numbers into Tens and Ones.
We will also be practising counting in 2's, 5's and 10's. You could also practise this at home! We have also started to look at writing them as multiplication number sentences, for example, 2 x 2 = 4, 5 x 3 = 15. We have been showing this in arrays using counters and dots.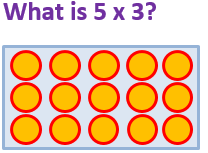 This is an array for 5 x 3.
The children will explore money and learn the value of coins. They will be carrying out activities to add coins together to make certain amounts. Maybe you could help with this at home.
We will also be looking at different measurements, such as capacity and weight.
The children will also carry out activities to explore 2d and 3d shapes, looking at the names and properties of them.
From using numbers, amounts and shapes we will be extending our learning to look at fractions.
Here are a few links with interactive education games that could support your child's learning this half term:
https://www.topmarks.co.uk/learning-to-count/place-value-basketball
https://www.topmarks.co.uk/place-value/place-value-charts
https://www.topmarks.co.uk/learning-to-count/paint-the-squares
http://www.mathcats.com/explore/polygonplayground.html
https://www.topmarks.co.uk/maths-games/measuring-in-cm
https://www.topmarks.co.uk/money/toy-shop-money
https://www.topmarks.co.uk/money/coins-game
English
This half term we have done lots of writing for our Topic! We have written a set of instructions for how to look after a dinosaur egg, a story about what we would do if the dinosaurs came back and a recount of our amazing dinosaur experience and fossil hunt.
We have been focusing on what every sentence should have:

You could check these in your children's writing at home.
We have also been looking at using different conjunctions to join sentences, for example, 'and', 'or', 'but' and 'because' and making sure we use them properly!
Phonics
The children will be put into a phonics group that suits the level of their development. The children will focus on certain sounds each week, which will help them in their writing and reading and they will complete a spelling test on the sounds they have learnt on a weekly basis. Remember to practise the spellings at home each week, you can look at the every night to make you a better speller!
Children need to be focusing on phase 5 sounds now, ready for the phonics screening test at the end of the year.
Please check the phonics games out by following the links below:
https://www.phonicsplay.co.uk/PicnicOnPluto.html
https://www.phonicsplay.co.uk/Phase5Menu.htm
Science
In science we are looking at animals including humans. We will cover herbivores, carnivores and omnivores and what they eat, different groups of animals (for example, mammals, birds, fish etc) and features of different animals.
https://www.topmarks.co.uk/Interactive.aspx?cat=64
RE
This half term we will be looking at the theme, 'Easter – Celebrating new life'. We will be looking at how we celebrate Easter, the different Days of Easter and what they mean, and what new beginnings we can find in the story.
PSHCE
Our PSHCE planning in Spring 2 is called 'Healthy Me'. We will be looking at how to keep ourselves healthy and being safe with medicines and other substances.
Monday Mornings!
The children take part in computing and music on a Monday morning when Mrs Brown is in class. We are currently using a company called Junior Jam to support us with our computing activities. And Mrs Reynolds teaches the children in music lessons.
The children also visit the library on a Monday too with Mrs Brown.
Topic
Our topic is called 'Dinosaur Planet'! We will be looking at different dinosaurs and how they lived all those years ago. We will be doing art work based on the topic by sketching fossils and completing prehistoric landscape drawings.
We had a WOW day where we had a special visit from Baby Jack and Sophie the T Rex where we learnt all about them, and then we also took part in a fossil dig where we got to see how we know so much about the dinosaurs even though it was a long, long time ago!
Please take a look at our gallery below to see what the children got up to on our WOW day.
Spring 2 WOW Day - Dinosaur Morning
Autumn 2 WOW Day - Magical Toy Museum - Freshwater Theatre
Our learning in Year 1 - Karate and Science - Autumn 1
Everyone is a Hero Day! - Autumn 1
Autumn 1 WOW Day - Enchanted Woodland - Tandle Hill