In Year 1 we want our classroom to be a safe, fun and an encouraging learning environment.
The Year 1 teacher is Miss Thomas, supported by our Teaching Assistant Miss Fenton.
Homework
Reading
We would like parents to read with your child every day and sign their reading record. We ask that your child brings their reading book in everyday as the adults may listen to them read.
Maths
Maths homework will be focused on the work we have done in class that week. It will be given out on a Monday and will be due in the following Monday.
Spellings
New spellings will be handed out every Monday and the children have a spelling test every Monday. Children will be given spellings based on the sounds we look at in Phonics that week. To begin with, they will be given 10 spellings to practice at home.
Learning Logs
Learning log tasks will be set every 2 weeks, and will be an activity that is around our topic. On the Friday they are handed in, we have a Learning Log Gallery, where the children vote for their favourite. The winner's work will be displayed in the hall and they will win a prize from Miss Thomas' prize box!
PE
Indoor PE Karate - Thursday (top, shorts and pumps)
Outdoor PE - Monday ( jogging top, jogging bottoms, trainers)
Please ensure your child keeps their PE kit in class as PE times can change. In Year 1 we send PE kits home to be washed at the end of every half term.
Autumn 1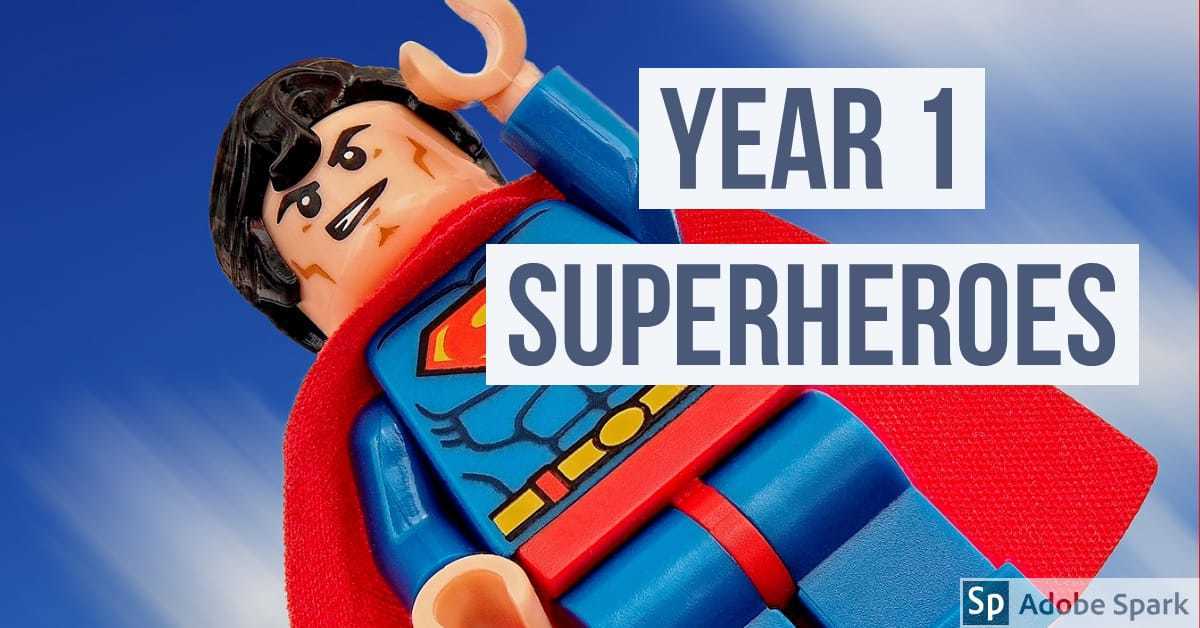 Our topic this half term is 'Superheroes'! We will be looking at different heroes and what makes them super. We will also be looking at real life and historical superheroes like Neil Armstrong and Christopher Columbus. At the end of every topic we will be investigating a 'Global Question'. This topic is looking at the question "Are there any real life superheroes?".
Writing
In Year 1 we will be looking at many different types of writing from stories to instructions. We link our writing to our topic work, for example, this half term we will be writing character descriptions of superheroes! We will focus on making sure the children remember the basics of sentence writing including capital letters, finger spaces, full stops, using their phonics and checking it makes sense.

Here are the Year 1 List of Trick Words that children should be able to read and spell by the end of the year.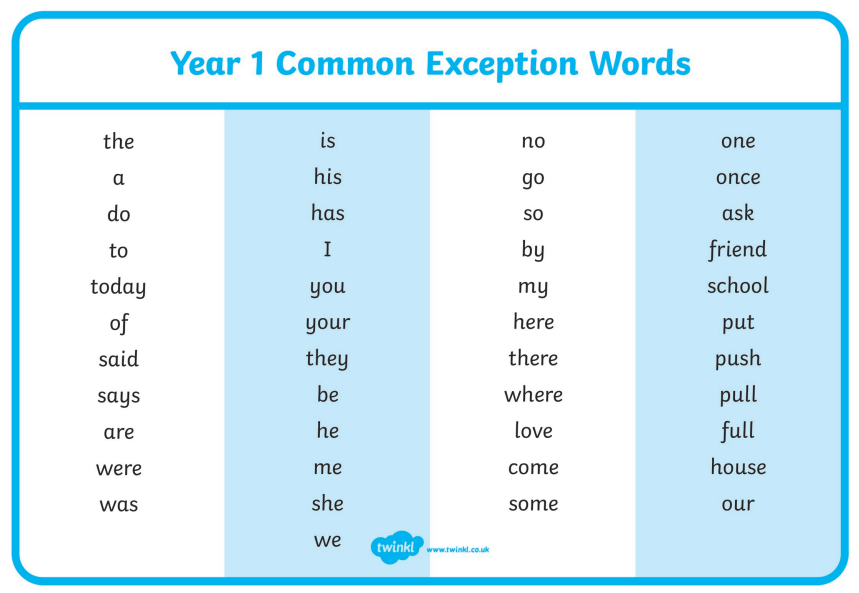 Maths
This year we have started following Power Maths. The children get their own workbooks and it focuses on 'Mastering' skills in Maths to be more confident in applying them. The first unit focuses on Number and Place Value, particularly numbers to 10 and addition and subtraction within 10.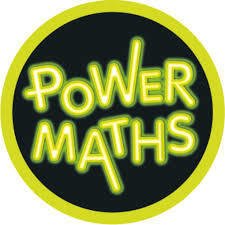 Here are a few links with interactive education games that could support your child's learning this half term:
https://www.topmarks.co.uk/learning-to-count/place-value-basketball
https://www.topmarks.co.uk/place-value/place-value-charts
https://www.topmarks.co.uk/learning-to-count/paint-the-squares
http://www.mathcats.com/explore/polygonplayground.html
https://www.topmarks.co.uk/maths-games/measuring-in-cm
https://www.topmarks.co.uk/money/toy-shop-money
Phonics
In Year 1, we are sent a special challenge from the aliens called the 'Phonics Screening Test'! We are given a list of real words and a list of made-up words and we have to sound them out so that we can read them.
Before we get the challenge, we will be practicing our Phase 3 and 5 sounds; as well as segmenting and blending words.
Here are some websites to help you get ready for the aliens!
https://www.phonicsplay.co.uk/PicnicOnPluto.html
Science
This half term in Science, we will be looking at 'Everyday Materials'. We will be looking at what materials look and feel like so we can describe them and compare them to other materials. At the end of the half term, we have to use our scientific knowledge to answer the Big Question:
What is the best material for a Superhero's costume?